Meet Compton's 31 year old African American Mayor
Aja Brown was six years old when NWA released Straight Outta Compton in 1988. The record – later to go double platinum – scorched into popular culture with tracks like Fuck Tha Police and Gangsta Gangsta.
The lyrics captured the rage of an underclass trapped by urban decay, drugs, gang violence and despair: "Straight outta Compton is a brother who'll smother your mother / And make your sister think I love her."
The album upended US hip-hop, infuriated politicians and law enforcement agencies, and immortalised Compton, an impoverished sprawl south of Los Angeles, for all the wrong reasons.
Brown was something of an exile: she grew in Altadena, north of LA, because her mother had fled Compton after the rape and murder of her own mother, Brown's grandmother.
Fast forward a quarter century and Brown, now 31, is the new mayor of Compton, an incongruously youthful, glamorous figure at the helm of what many still consider one of America's murder capitals.
The girl who was reared elsewhere for her own safety returned to her roots and ousted the ossified political old guard with a striking message: "Compton is this amazing place with a rich history. I see it as a new Brooklyn."
Compton needed shaking up, Brown said in an interview this week, framed by US and California flags at her desk at city hall. "I really believed we needed new leadership in order to take the city to where I think it can go and reach a greater potential."
Despite her mother's anxiety about safety, Brown and her husband, an oil industry safety inspector, moved to Compton in 2009. A policy wonk urban planner, she worked in municipal government. Frustrated by local politics, she lobbied potential candidates to run in June's mayoral election, only for them to return the challenge. "They all pointed the finger right back at me and told me I should run."
The political newbie won, defeating a grizzled local caudillo, Omar Bradley, who had served two previous terms and been convicted of corruption.
Last week, just 90 days into her tenure, she outlined an ambitious agenda to transform this poverty-stricken 10-square mile city of 97,000 souls through fiscal reform, construction projects, jobs, better diet and civic promotion.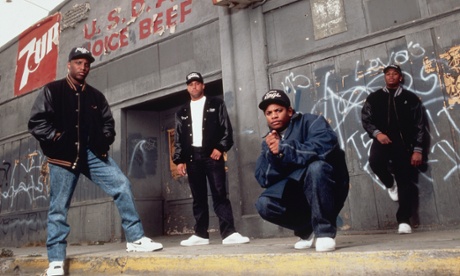 Compton, said Brown, has industry, freeways, rail links and a superb location, close to downtown LA, the port and airport, to emulate Brooklyn's reinvention as one of New York's most dynamic boroughs. "Just look at all the resources here. You kind of wonder why Compton hasn't progressed to the level that it should."
One reason, she said, is that Ice Cube, Dr Dre and Eazy-E of NWA – short for Niggaz Wit Attitudes – among others, stamped gangsta rap on its identity. "The image and perception of the city has really been stained by the phenomenon of rap music."
Platinum-selling artists depicted just one part of Compton in the 80s and 90s.
"But like any other city there are good areas and bad areas. It's almost like a self-fulfilling prophecy when young people grow up and gravitate towards that type of behaviour. It's created a negative cycle. We are tasked with breaking that mould and replacing it with something new and positive."
Defenders would say the rappers elevated bleak reality into art and exposed shameful neglect. Either way, reversing the cultural tide appears a task worthy of King Canute. Brown plans to reach out to rappers like Dr Dre and Kendrick Lamar in hope of sparking change. "The only thing I can do is ask. We all have a social responsibility and have to be mindful of what we do and say. There is more to life than drugs, violence and cars."
The mayor also hopes to enlist Venus and Serena Williams – who grew up hitting tennis balls on Compton concrete – in new tennis academies. "The courts are still there. Most just need new nets." She also plans to tap Hollywood philanthropy. Scott Budnick, an executive producer of The Hangover films, has agreed to help.
The more immediate tasks are restructuring city hall and responding to community emergencies, notably crime. Inter-gang violence spiked in July, killing 22 people, just after her election. An inter-agency crime task force helped nudge that down to 19 in August and 11 in September.
The spike was an anomaly. The murder rate has halved since 2000. Compton's violent crime rate remains more than twice the US average, and a siren sounded during the interview, but the city is hardly the Mad Max carnage of popular imagination.
Brown has no plans to revive the long-ago disbanded police department, calling it too expensive. Compton will continue to rely on the LA county sheriff's department.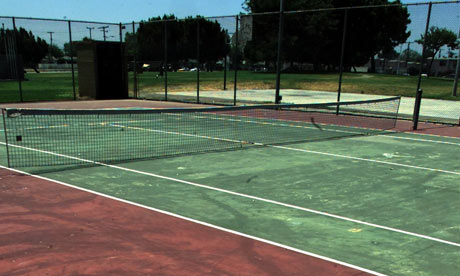 Originally a white suburb, Compton saw an increase in middle-class black people from the 1940s. White folks moved out, a flight accelerated after the 1965 Watts riots. Many middle-class black people left after the 1992 Rodney King riots, branding it a ghetto.
Two-thirds of Compton is now Latino. Racial tension bubbles up. Latino gangs have expelled black families from certain areas. And Latino civic leaders grumble that black people keep a lock on city hall. Brown played down the tension. "Every representative and public official needs votes from every ethnic group." Forty percent of her campaign volunteers were Latino.
And economic prospects were bright, said Brown. After flirting with bankruptcy, the city's $60m budget now enjoyed an operating surplus and was paying down its debts. An e-commerce project would hopefully bring 1,000 permanent jobs. New housing developments were attracting outsiders looking for short commutes to Orange County and downtown LA. "There is revitalization and reinvestment."
Brown hopes to dent rampant obesity, disease and overmedication, especially of children, by promoting exercise and fresh fruit and vegetables. "I feel the difference if I've had a quality breakfast or if I've gone to the gym in the morning."
It sounds dreamy, but the graduate in urban planning and public policy (the straight-A student won scholarships to the University of Southern California) talks in technocratic language, referring to nutritional studies, truancy symposiums and cost-benefit analysis. "I research best practices and recipes for success and failure to craft personalised policies for my city."
A member of the Faith Inspirational Missionary Baptist Church, she says she is progressive and conservative, depending on the issue. She opposes legalising marijuana or other drugs, saying it would worsen youth addiction.
Brown cites Barack and Michelle Obama, and Newark's mayor, Cory Booker, as inspirations. She rejects suggestions she is too soft for Compton's knuckleduster political culture. "I'm very tough. Come to a council meeting and you'll see it."
It is very early days but the photogenic mayor has already graced the cover of LA Weekly and been featured in Vogue.
If her administration goes well – a big if, given the city's problems – Brown may just become the next big thing outta Compton. "I think I'd have the capacity to serve at higher level. But for now I'm focused on my term here."